Kaleo @ le Trianon, Paris, 27 janvier.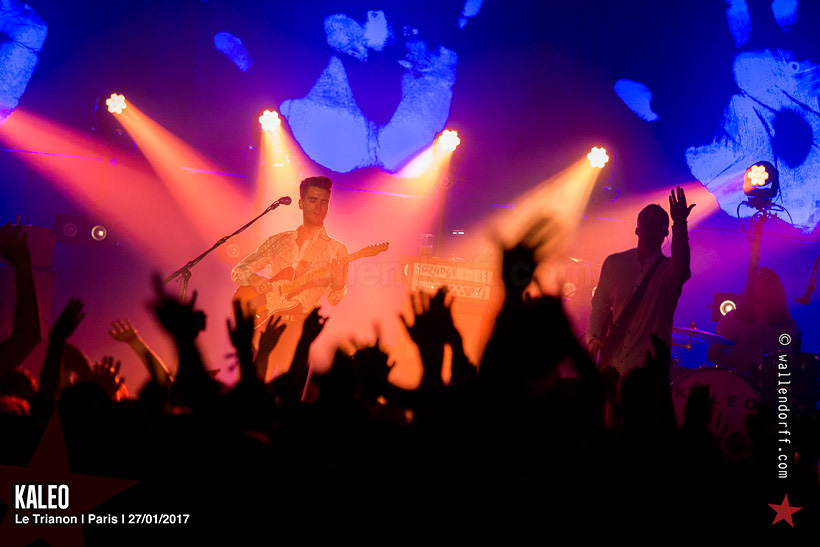 I Can't Go on Without You | Save Yourself | Broken Bones | Alter Ego | Pour Sugar on Me | Automobile | All the Pretty Girls | Hot Blood | No Good | Vor í Vaglaskógi | Bang Bang (My Baby Shot Me Down) (Cher) | Back Door | Way Down We Go | Ladies Man || Rock 'N' Roller

Comme quoi placer son tube dans bon nombre de séries étasuniennes (Vinyl et Orange Is the New Black en tête) paie : Le Trianon est complet depuis des semaines. Lorsque les lumières s'éteignent, c'est la voix de JJ Júlíusson, chanteur fluet à la belle gueule et à la belle mèche de jeune premier, qui emplit l'espace, entonnant I Can't Go on Without You en contre-jour. Le timbre du meneur de Kaleo est rauque et chaud, en totale contradiction avec son physique et son âge, un peu à la George Ezra. C'est lui qui fait tout le show, en pleine lumière. Les trois autres restent en retrait pendant que s'enchaînent des morceaux bluesy – voire americana –, tous repris en chœur par les premiers rangs. Le blues, Kaleo font ça très bien. Il suffit d'écouter Broken Bones ou Automobile pour s'en convaincre. Ils ont seulement tendance à verser un peu trop dedans. Quand le concert prend son envol et qu'un Hot Blood volcanique et un No Good marteleur mettent le Trianon KO debout, les Islandais repartent dans les morceaux lents (dont Vor í Vaglaskógi, seul morceau écrit dans leur langue natale, qui permet toutefois de repérer les Islandais du public à leur façon de chanter parfaitement ses paroles) au lieu d'enfoncer le clou. On a ainsi droit à une version du Bang Bang (My Baby Shot Me Down) de Cher langoureuse, par ailleurs fort bien exécutée, mais un peu frustrante. Way Down We Go (le tube que la majorité de la salle attendait) provoque l'effet attendu, puis Ladies Man et Rock 'N' Roller (en rappel) closent le set avec plus de hargne. Le tout se termine lumières allumées, au son des cris du public, bras en l'air et ravi. Tout cela est convaincant, mais le serait encore plus avec un peu moins de lenteurs dans les virages. Une fois qu'un deuxième album sera sorti, peut-être, et que leur répertoire sera étoffé.